'I just don't know what to do with all this surplus time on my hands!' said no mom, ever. Becoming a parent can mean juggling what feels like 9 million things at the same time, and it's easy to sacrifice self care when you're busy caring for your offspring and their endless demands.
But if you're the kind of cool mom who likes to make a little time for looking, feeling and smelling darned good, then it's important to carve out some pampering time – even if it's just a few precious minutes.
So for all you time-pressed moms, here are some fast fixes that will have you feeling fine, looking good and smelling delicious in no time flat.
Bathing and skin care products:
1. This bargainous Natural Loofah Sponge Bath Ball costs $1 or less from Ali Express, and is the bomb when it comes to sloughing off dead skin and reviving dry areas like elbows and knees. So what if that doesn't sound glamorous? At this price you can buy a few so there's always one on hand to use with your favourite bath/shower wash, and follow up with a lovely body cream.
2. Speaking of bombs, stressed moms and hormonal teens might be fighting over this purple lavender 'F Bomb'(from $4.99, Amazon) A that promises to dissolve stress and melt anger with its sweet natural calming ingredients. The brainchild of two teenage sisters, it doesn't stain the tub, which is a good thing as otherwise you might be dropping a few F Bombs of your own.
3. Get that bath running already so you can have a blissful moment with these gorgeous moisturising bath bombs from Soothing Waters Spa. (From $21.99 for box of six super-sized bombs) Vegan, organic and 100 natural, they are also beautifully packaged, won't irritate sensitive skin and, even more importantly, will leave skin wonderfully soft thanks to the generous use of Coconut, Plumeria, Eucalyptus Mint, Grapefruit Vanilla, Lavender Basil and Aloe & Green Tea. Be warned, you might have to buy extra as your kids are damn likely to want to steal these.
4. When you don't have the time or the money for a spa (that's basically All The Time for me..) these little beauties are the next best thing. Handmade from Anusha Moodley, the Awaken and Refresh Shower steamers ($13.62 from UncommonGoods.com) should be placed on the floor of the shower and release a hit of lovely spa-inspired smells – choose Chillax Lavender, Breathe Eucalyptus, or Orange Mint – as they fizz away.
5. Sticking with the shower theme, this set of 12 all-natural shower steamers (think cube-shaped bath bombs but, erm, for the shower, obvs) comes in at a few cents shy of $40, but the lovely box-of-sweets design and gorgeous scent makes them a worthy gift. For yourself.
BTW- Here's a way to have your (sometimes very much needed) glass of wine, and it's even good for you :-):
6. Roll with the punches and smooth a tired looking face with these gemstone facial rollers ($25-30, UncommonGoods.com). The concept of a facial roller might seem a little faddish,but the Chinese were practicing facial massage centuries before any Kardashian cottoned on to the idea, so it's definitely worth a whirl to reduce puffiness and boost circulation. 
7. Got a little extra pampering time? Fight stress as you soak with these CBD Relief and Relax bath bombs. Using hemp extract with essential oils, they won't get you high but they can sooth muscles, reduce stress levels or get you ready to sleep, depending on which one you choose ($13.62, UncommonGoods.com)
8. You know that fancy water you get at spas? Well your water will put it to shame with this baby. The Aromatherapy Spa Decanter has a gemstone rod that infuses your water with amethyst and rose quartz. Ok,it costs $77, but it's a nice treat if you have cash to splash.
9. Retinols and acids are the hottest trends in skincare right now, but some can be harsh and cause long-term damage to your skin.This Time Traveler Serum ($110, yep it's a pricey one) combines a safe dose of wrinkle-reducing plant retinol with moisturisng hyaluronic acid, together with some unique plant goodness for an added beauty boost.
towels:
1. spoils a pampering session like a scratchy towel.  These super-size bamboo fiber towels ($20, Amazon) are also super soft to both body and hair, fold up nice and compact, and are quick drying. Win win win. 
2. Stepping the luxury level up a notch, these Salbakos towels ($50) combine Turkish cotton and Italian silk to delicious effect. Hide them in the cupboard and don't let anybody else use them. 
Towels for babies and toddlers:
These cute, cozy hooded bath towels from Channing and Yates ($20) were designed by the parents of twin boys with eczema, and every care is taken to ensure they have no skin-irritating ingredients.
bath time 
1. A practical solution to plugged-up plug holes, these 'strainers' fit over the sink plug or drain, so you can just lift it out after a shower or bath. No it's not glam but it's a bit of a mom must have! And they only cost around $1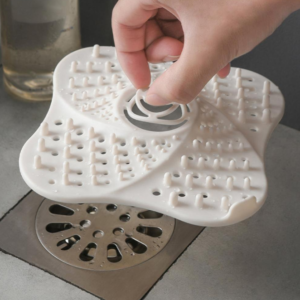 2. Babies will be comfy in the bath and you won't be panicking about dropping or drowning your newborn with these inflatable bath pillows that make baby bathing a whole lot less stressful. From $9.
3. Another cool mom must-have, these shower curtain clips (from $2) hold the shower curtain in place so water doesn't get splashed all over the place while the kids are in the bath or shower
4. Get a grip! These kid-pleasing shower squids ($29.97) have nine grippy arms (there's a reason for the extra limb, designer Jens Widerbereg didn't just lose count…to keep all your shower and bath essentials in one place
5. If your little kids make a song and dance about bath time, tempt them into the water with these cool glowing bathtime pals ($18.17) the colourful cubes with funny, funky faces glow up when they get wet, so littlies may want to stay submerged for some time
6. A gorgeous-smelling candle whose packaging blooms into colourful flowers, you say? What witchcraft is this? And where do we sign up? The sweet-smelling Plant the Packaging Floral Candles ($25.43) come in scents such as Siam Poppy, and the packaging is filled with seeds which, when buried under soil, bloom into colourful life.
7. This snazzy looking soap pump from Umbra looks more expensive than it's $10 Amazon price tag. It comes in a range of colours, is easy to fill, and quietly makes a statement on your sink
toilet essentials: 
1. Poop like a unicorn! Yep, fool visitors into thinking your number twos smell like flowers and rainbows with this 'Unicorn Approved' pre-poo spray from Squatty Potty uses essential oils to neutralise the smell of your toilet touchdown. It says it's infused with Unicorn Gold, which is clearly a load of crap but it does look cute and smell sweet. 
2. Don't be a loo roll loser – get this 'EZ-load' wall mounted toilet paper holder ($18.44) looks pretty smart and is super easy to load, so who knows? You might not be the sole member of the family that ever changes the forking roll!